If you have a wedding, party, event, or special occasion, the all new
Crest 3D Whitestrips 2-Hour Express
are for you! Fast effective whitening in just two hours, this intensive course lasts a whole year, and is designed for people who do not have time to whiten on a regular basis.
Our very own dispatch team manager Sophie tried this out for us at
Whitestrips4u.co.uk
, and here is what she had to say:
'So when I was given the opportunity to provide you with a product review on
Crest 3D White 2 Hour Express Whitestrips
I couldn't wait to begin the process and fill you in on the details, as it is promised to remove tooth stains in under 2 hours, with no messy residue.
As someone who likes to smile and yap alot about my
adventures,
I am sometimes self conscious about my non bright white smile. Being a mum is hectic enough so finding the time to schedule a dentist appointment for a teeth whitening process seems like torture, let alone finding the money for this expensive process is unheard of. So, when i heard we would be getting the new
Crest 3D White 2 Hour Whitestrips
(£39.45 / 4 treatments) to try and offer a review I jumped at the chance. They will also be offered in smaller split quantities for those of you who do not require a full course'.
Inside the box was 4 treatments (each with 1 upper and 1 lower strip). There was also an instruction manual (remember to read before applying the treatment).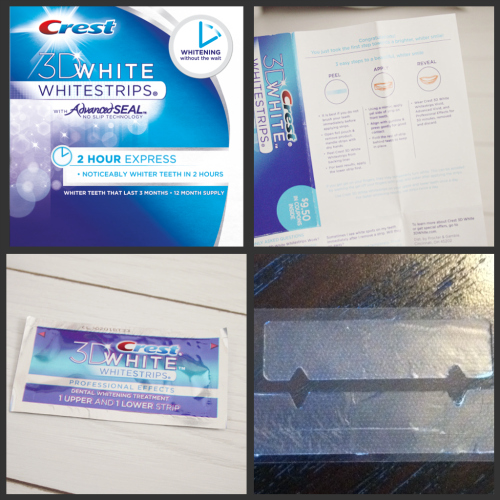 'Ok, so far so good, now I am all set for application…stay tuned!'
*Please note that this post is a testimonial before applying the treatments, check back later for the final reveal*